2
My WEBPAGE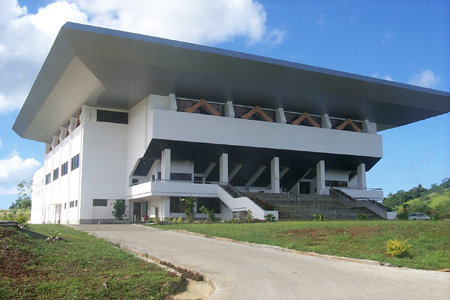 ChinaFSM Friendship Gym
THE MOST ADVANCE BASKETBALL AND VOLLEYBALL GYM EVER BUILD IN THE FSM.
The gym has two basketball court with wooden floor. The gym is available to students and outsiders. The game court contains over 1450 seats for spectators. It is also used for graduation, and other activities. It have a large overhead screen which is used for watching movies and also scoreboard for basketball and vollyball. A studio room which is very will equipt.
The other court is used for practicing vollyball and basketball, COM-FSM used the court for parties, fun nights and other school activities as well.
There are lots of students activities that are happening in this very gym every month. There are students activities for both male and female. All students from each states compete each other by representing their home state. Here are some of the:
Students Activies
Basketball for Male and Female

Volleyball for Male and Female

Table Tennis Single

Pool Table Tournament

Fun-Night

And Many More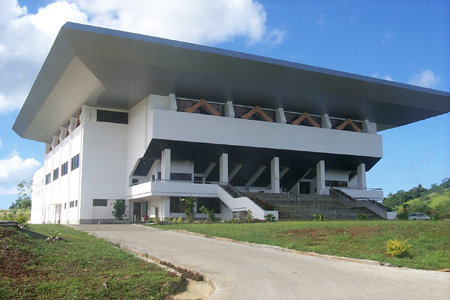 Every Semester all students from the four states including COM-Pohnpei Campus students and students representing PingMok Organization come together and compete their soul out. All students show all their talent by representing their state. They compete by playing basketball, Volleyball and Track and Field. All activites going on in the gym are supervise by the Regreation Staffs.
Check out the new weight room just open in Fall 2002.
Students from all over Micronesia are welcome to join the Fun at COM-FSM and respresents their state. This is something that you could never experience at any other college. Just imaging how much fun you could have at COM-FSM while your studying for your degree. This college have everything that any micronesian student would wanted. It is a good place to start experiencing College LIFE. COME ON and meet new friends and your old friends. If you wanna show all your new talents to your old friends, new friend and this nation, well this is the perfect place to do it. So what are you waiting for? It's a one time experience.
If you think you can represent your state and take the Championship, well come on and show it.
OTHER TOURNAMENTS AND ACITIVITIES OPEN TOURNAMENT FOR EVERYBODY Open League @ the ChinaFSM Friendship Gym
Every Semester there are also Open League (Basketball) for males only. Everybody are invited to play in this tournament.This league is open to outsiders and students. If any of you out there is interested in playing basketball, come and check it out at the COM-FSM Regreation Office and register for the League. Everybody around Pohnpei come together and compete, teams from different village come and represent their village. So if you think you have a better team to compete well..... In order for a team to participate in this league they must met the following.
Pay $100 fee

Must Have Uniforms
Remember all the Rule for the Gym is Applied to everyone. Students and Outsiders will play by the Rules. If you have any problem with the rules, dont come and complain.Whenever anybody or somebody break any of the rules, will be suspended from the gym through out the League. So remember, you dont play by the rules, dont complain if you lose.
FOR MORE INFORMATION ON COM-FSM or ANY QUESTION, CHECK OUT THE EMAIL ADDRESS AND ASK ANYBODY, THEY WILL BE MORE THAN HAPPY TO HELP CHECK OUT THE COM-FSM WEBPAGE!!!
Quick Links for the 4 States of FSM

Wanna Search the Internet for Class Research or any Website
If you wanna check out the fonts that can be use for your webpage.